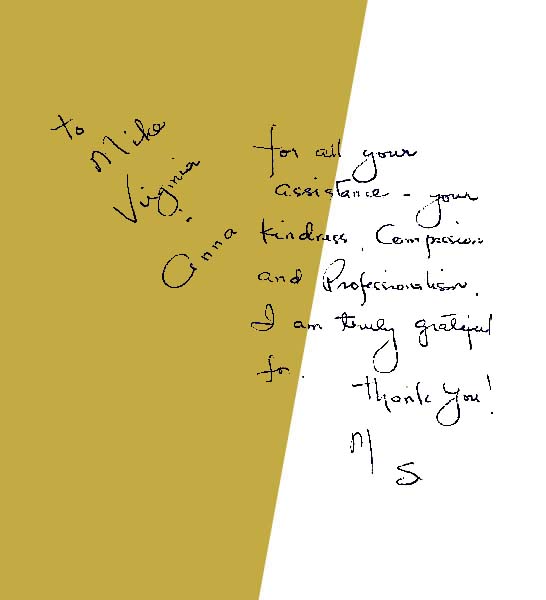 The best sales person is
always "Word Of Mouth"
In 10 plus years of business, TPS has created a client base of over 24,000 clients and we take pride in the fact that approximately 67% of our client base is repeat business or referrals from previous clients.
Below are just a few comments we have received.
I am very grateful to Volodymyr and his team for their professionalism, honesty, competence and excellent work …
Thank you very much.
Vita I.
The service is excellent and very professional. Very good results. Choose Steven. He is the best!
WorldStar Music
My experience with the associates at Traffic Paralegal Services was exactly what you would want and expect out of a professional traffic law office.
I was lucky enough to meet with Carolyne Zhang at which point we discussed the details of the tickets and the circumstances under which they occurred. The customer service and attitude I experienced while there was great and I was left feeling as if they truly cared about my problem. As for the tickets, the process was made really easy as I was notified about everything and did not have to show up for any court proceedings.
Due to their hard work, they were able to help me fight all 3 tickets and get them dropped.
I would highly recommend Traffic Paralegal Services for any traffic ticket or driving offence issues you may encounter. I was able to get all of my tickets dropped and was treated very respectfully. They wont leave you disappointed.
K. Sharma
As an 18 year old with a G2 driver's license, I was horrified when I received a ticket for making a mistake on the road. My parents and my concerns were that our insurance rates were going to become unaffordable.
Luckily my boyfriend's father knew Mike, the owner of Traffic Paralegal Services.
Mike made me feel at ease right away when he took my ticket, read it and told me not to worry. He gave me his business card and said my parents could call him and he would refund my deposit if they were not happy with my decision to use his firm.
Mike understood my situation as a young driver and the next time I heard from TPS was when one of his employees called me and said my ticket had been "thrown out" and my driving record would remain unblemished. The fee I was charged was not much more than pleading guilty to the ticket would have cost.
All I can say is, thank you Mike and thank God I didn't just sign the ticket and pay the fine.
Laura R.
Hi Nicole,
I would like to thank Traffic Paralegal Services for fighting our ticket in a professional way. I appreciate your service and would recommend others in the community.
We are all committed to making our city safe. …
Thanks again.
Best Regards
Masroor A.
I was told by a Paralegal friend that, those traffic guys are a waste of money. So with that in mind I went to trial and represented myself and without having a clue what was going on found myself convicted.
I went to the team at Traffic Paralegal Services and they reviewed my case regarding license suspension. We filed an appeal. Presented with a proper defense, the appeal was upheld.
Thanks to the experienced oversight of Michael Walt and the effective, professional, proactive representation by Volodymyr Menok we were successful in our appeal and getting my life back.
Thank you!
Chris C – Toronto
To Whom It May Concern;
I felt the need to write a review … People usually take the time to write negative reviews and I felt the need to write my personal experience and how grateful I am I used this firm.
My father received a ticket last year and his first ticket in a very long time. He was extremely stressed about it and I felt the need to tell my dad, don't worry I'll take care of it. The reason I could say that is because this isn't my first time using this firm and I was confident the team would do the best they could in fighting my ticket.
Sure enough they took care of it. I am truly grateful in the professionalism of this firm. They kept me updated the whole way and not once did I have to stress about my ticket or do any kind of follow up. I would definitely use them again but in the hopes that I don't have to.
Thank you …
Best Regards,
Stephanie V.